Our solution offerings include:
Mobility Solutions
Mobile Device Management
Apple Integration & Implementation
Best of Breed App Consultation
Bespoke App Development
Contracts
Sales & Technical Consulting services
Custom to order Hardware Configurations
Storage & Infrastructural Solutions
Hardware & Software Audits
3rd Party Hardware & Software Solutions
Extended Warranties
Trade-ins
Apple Integration & Implementation
Hosted Exchange & Cloud Services
Beacon Technology
Server & AD Integrations
Accredited Repairs
Training
Technical Support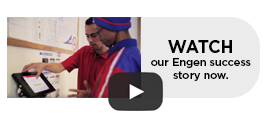 ​
Solutions Partners
We know how important implementing the right technology solution for your business is, no matter how big or small you are. From networking to integrated mobile solutions we will help transform how you do business. As an independent Apple Premium Reseller of Apple Solutions and your local Apple Expert, Digicape is the right partner to build a solution for your business.
iPad in business
The iPad is your single greatest productivity tool, transforming how work gets done across industries and lines of work. With apps available for anything you need and an iPad that's just the right size for what you need it to do, inspiration will never be far away. From a pop-up store to Fortune 500 companies everyone is embracing technology that empowers the mobile workforce and the iPad is the perfect tool. Secure, easy to use, transportable and a scalable and cost effective solution to implement, Digicape will take care of all your mobility needs and offer support through a Mobile Device Management program. See how the iPad is changing lives for Engen employees and their communities.
At work with Mac
Impressive notebooks to powerful desktops, Macs are the go-to tools for any business. As companies open up and BYOD become a reality, business people are choosing Macs for their stately design, incomparable security, productivity software including Exchange support and to pair with their other Apple devices as interoperability takes control. Whether your company is used to using Microsoft Office 365, Google or iCloud with iWork the Mac can handle it all and will likely exceed all expectations. Get in touch with our business solutions team to discover the best Mac solution for your company.
Expert Advice. Integrated solutions
Digicape specialises in Apple based solutions for business. Setting up the right infrastructure for your business, hospital or learning institution takes specialist skills, whether you're opting for a basic or fully integrated solution. We consult, support and supplement your existing technical team or operate as a full outsource partner. Whatever your requirements, we have the expertise, vendor partnerships, solutions, support, products and software to take care of all your technology needs.
Supporting businesses every step of the way
We consult to define a technical strategy, audit your existing hardware and software, write the new network requirements specification and plan and manage the implementation. During implementation we assist throughout the deploy regardless of a big or small implementation is, including equipment being upgraded, redeployed and new. And when it's all done we provide you with ongoing support in the form of a Service Level Agreement, in-store assistance from our Fundis, scheduled support calls from our support desk or more specialised services from our Authorized Service Centre.
To get maximum productivity from your network, devices and software we host information days at your premises to get your staff better acquainted with the technology they're using or you might prefer a tailored training package on-site at a time that works for your staff.
DEP and Device Deployment
Safe and securely deploy your institution-owned iPads and Macs via the Device Enrolment Programme. For more information on DEP and device deployment click here.
Mobile Device Management
Keep your remote workers focused with Digicape's total MDM solution that manages all your remote iOS devices. Restrict user capabilities, secure data centrally, enable remote access and monitoring, ensure overall device governance and the ability to push business relevant apps to all your devices.
Digicape Hosted Exchange
Unlock the power of enterprise collaboration and communication systems through one integrated hosted solution that communicates to any device on any platform. Link PCs, laptops, smartphones or PDAs onto a unified virtual exchange and synchronise email, calendar, contacts, tasks and a host of other business applications through a secure wireless connection.
Software
Your Apple product has potential beyond your wildest dreams. From word processing to design excellence, Hollywood blockbuster or centre stage there's software or an App to help you get where you want to be. Digicape is the premier reseller of all software for Apple, Adobe and Microsoft for Apple packages, delivered in a box or in the cloud. And when you're all set, sign-up to attend one of our demo sessions or personal and corporate training courses to move from basic to pro user and increase your productivity.
Connectivity
Connect to other devices and connect to the world with our business and consumer Internet packages. Wireless, cellular, WAN, LAN and leased lines are all available as standalone services or packaged with our hardware, software and networking solutions. Our technical solutions team will help you choose the right option for your requirements and Digicape's inbound and outbound support engineers will configure, setup and support the network for you. View our current Vodacom contract packages bundled with the latest Mac/iPad/iPhone. Let Digicape help you plan the right solution for your business today; we've been doing it for leading South African brands since 2001.
Training for business
Training is an important part of making sure you get the most from your technology investment. Choose from our Professional Development courses or workshops to give your workforce the skills they need. Training can be done onsite at your premises or offsite at our facilities. Our Training team can tailor a program specifically for your needs or check our training calendar regularly for updates to courses and demo sessions we're hosting.
Basic Apple Training
Advanced Apple Training
Bespoke Apple Training
Free Apple Workshops
Free Apple Demo Days
Apple Professional Development Training
Apple Technical Support Training