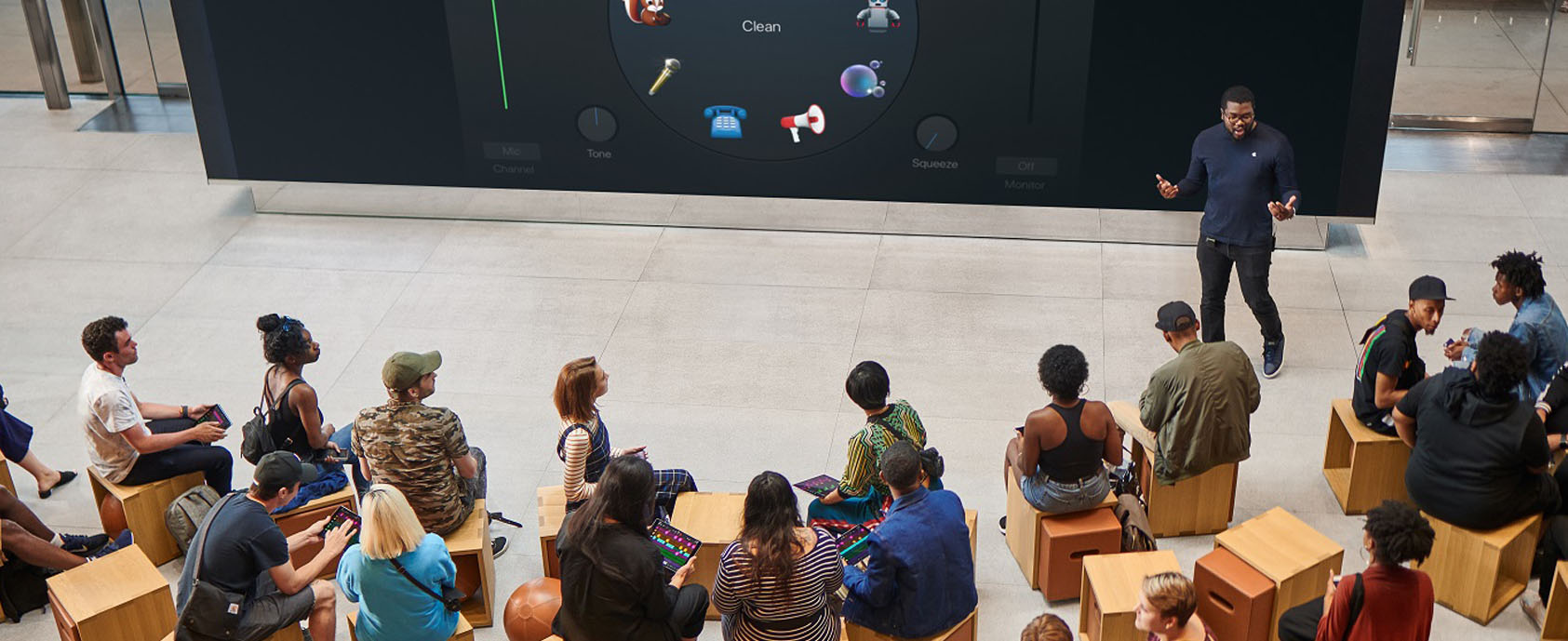 New owner, pro-user or prospective Apple support technician. Get to know your new Apple product even better with our demo sessions, personal & corporate training & courses.
In-store Training
Join us at our Gardens Store for an interactive training session on customising your Apple device for peak productivity and a smooth user experience. Our team of Apple experts will help you discover helpful features and share tips on how to set up your device for success. Whether you've upgraded or want to get to know your device better, there's something for everyone.

Multitasking & System Settings
For Ventura

Multitasking & System Settings
For iPadOS

Lockscreen & Focus Mode
For iOS

Mail & Messages
For Ventura, iOS & iPadOS 16

Shortcuts
For Ventura / iOS 16

Spotlight Search / Siri
For Ventura

Freeform
For Ventura, iOS & iPadOS 16
Demo sessions
Demo sessions are designed to orientate you and help you personalise your user experience so you understand the full capability of your device. We will explain the basics, update you on new features, advanced capabilities, user tips and tricks and show you how to collaborate, back-up to iCloud, search and share.


Mac Orientation
In this short session we demystify the Mac. You will receive a basic orientation of macOS and learn how to customise your Mac so that it works for you

iPad Orientation
See how iPadOS elevates your iPad to a new level. Whether its for business or education, iPad with iPadOS could be the only computing device you need

iPhone Orientation
Our iPhone orientation session shows you everything you need to know to get started with iOS 13 and get the most out of your iPhone

Workshops
Newcomers and experienced users all find value in the Workshops we offer.

Mac 101
Following on from our Mac Basics Orientation session, come and learn how to simplify many tasks, customise the Finder and your windows, secure your Mac with backups and gain control
Cost - R990.00 incl. VAT
Duration - 3.5 hrs

Photos
For clients with a basic understanding of macOS, Photos enables you to connect to your iCloud Photo Library - giving you access to your photo collection from any device you own
Cost - R990.00 incl. VAT
Duration - 3 hrs

iMovie
For clients with a basic understanding of macOS, we'll show you how to perform the basic functions of video creation and how the amazing new features can transform your experience
Cost - R990.00 incl. VAT
Duration - 3 hrs

Keynote
This presentation package is beyond powerful. The world is your oyster; change colours, insert any media and media browser, apply slide and object transitions and animate
Cost - R1550.00 incl. VAT
Duration - 4 hrs

Numbers
We'll get you started with Numbers, Apple's spreadsheet application for Mac and iOS devices. You'll learn cells and cell-data, functions and charts
Cost - R1550.00 incl. VAT
Duration - 4 hrs
Pages
Apple's answer to streamlined word processing is easy to use and dynamic in what it produces. learn how to work with text, styles, media and automatic functions
Cost - R1550.00 incl. VAT
Duration - 4 hrs

Microsoft Powerpoint for Mac
PowerPoint is the age-old presentation software that thankfully replaced overhead projectors. Powerpoint makes it easy to create, collaborate and share professional media rich presentations
Cost - R1550.00 incl. VAT
Duration - 4 hrs

Microsoft Excel for Mac
This basic MS Excel course provides you with a solid understanding of all aspects of the industry standard of the spreadsheet world. Learn workbooks, worksheets, cells and data.
Cost - R1550.00 incl. VAT
Duration - 4 hrs

Microsoft Word for Mac
We'll show you all you need to know about the interface. How to use templates, know your menus and toolbars and your toolbox and Media browser
Cost - R1550.00 incl. VAT
Duration - 4 hrs