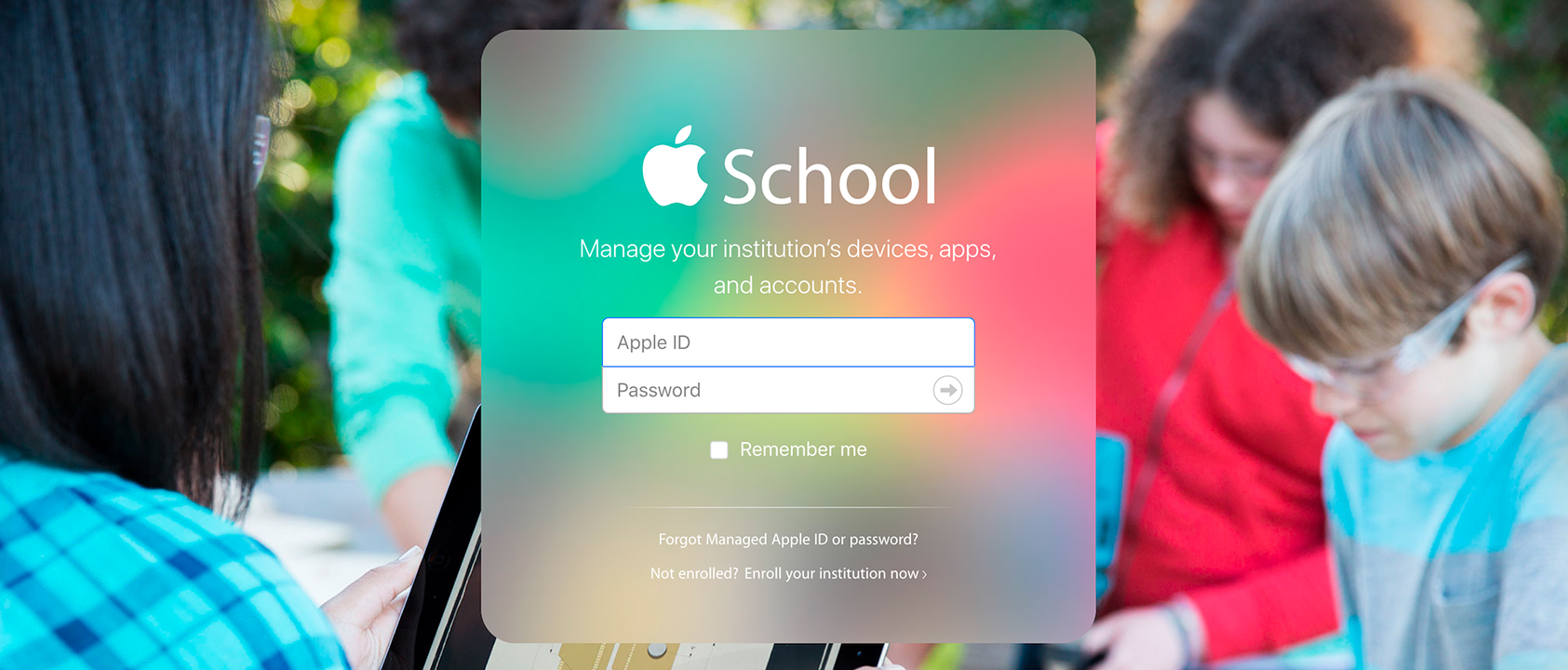 Apple School Manager is a simple, web-based portal that helps IT administrators deploy iPad and Mac in schools. You can easily provide students and staff with access to Apple services, set up devices, get apps and enable teachers with tools to create engaging learning experiences - all from one place.
Integration
With federated authentication in Apple School Manager, it's now easier than ever to integrate iPad and Mac into your existing environment using your school's Microsoft Azure Active Directory credentials.
Use Azure Active Directory to manage access
Connect Apple School Manager with your school's Microsoft Azure Active Directory and get every student and staff member automatically set up with Apple services
Connect your Student Information System
Apple School Manager integrates directly with popular SIS providers including SunGard, Infinite Campus, and PowerSchool.
Build an individualised experience for students and staff
With apps, iPad can become a laboratory, a movie studio, a time machine, even a spaceship. Apple School Manager makes it easy to provide classrooms with the right learning materials in time for the first day of class, from the productivity apps schools need for their daily workflows, and free Apple-designed apps for doing and creating, to the thousands of apps in the App Store designed specifically for learning.

Easily buy apps
Purchasing content in bulk for iPad and Mac is made easy within the Apps area in Apple School Manager. You can search for content, purchase licenses with your education volume discount, and instantly view important information all in one place.

Offer a curated app catalog
You can allow students and teachers to install additional apps from a selection that is pre-approved by your school. So the content you make available meets your curriculum goals as well as your standards for security and privacy.

Include every learner
Everyone learns differently. Apple products are designed to support those differences. So they include innovative assistive technologies to complement every learner's vision, hearing, motor skills, learning, and literacy needs.

Use in the classroom
With devices in the hands of students, it's important to set teachers up with the right tools to create great learning experiences. iPad and Mac fit right in to your school's existing productivity workflows, with native support for apps like Google Drive and Microsoft Office. And Classroom, Schoolwork, and Apple TV help your teachers go further and transform their classrooms into dynamic and interactive learning environments.
Help teachers manage their own class
Classes are automatically available in Classroom and Schoolwork, so teachers can start working right away. And you can enable Student Progress for Schoolwork from the Settings area of Apple School Manager.
Works with the tools you use every day
Google G Suite apps, including Google Drive and Google Classroom, work seamlessly on iPad. So do Microsoft Office apps. And with free, built in apps designed by Apple, teachers can bring out the creativity in every student.