We're still here for you.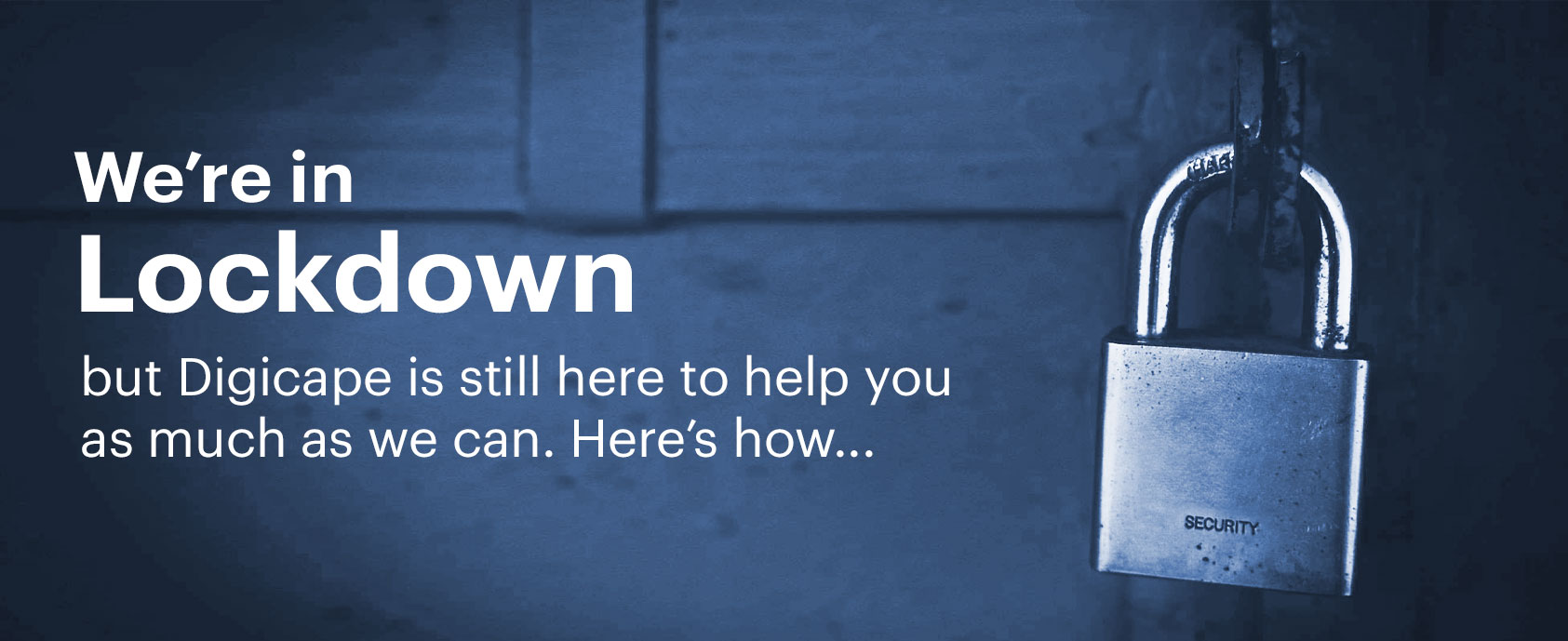 To the greater Digicape family,
As many are aware, President Cyril Ramaphosa announced that the National Coronavirus Command Council will enforce a nation-wide lockdown for 21 days with effect from midnight on Thursday 26 March 2020.
We are fully supportive of the steps taken to curb the transmission of the Coronavirus and will therefore be closing all our locations from close of business on Thursday. We understand the inconvenience this may cause, so we have put several contingency plans into action to offer the best level of service we can under these unprecedented circumstances.
Please read through the below and reach out should you have any queries.
Business and Education Sales
All account managers and telesales are available via the Cape Town switchboard, on their mobile phones or via email during normal office hours. The team will do their utmost to assist with all your requirements although we cannot deliver stock until after lockdown restrictions have been lifted.
Our education training sessions will migrate from in-person to virtual online sessions. It will be virtual business as usual once the school term starts. Please check our website for upcoming events. We are also running virtual training sessions on how to manage remote teaching and learning for those schools who need assistance. Please contact us for more details.
Essential Services Support
We are registered as an essential services provider as defined in the Disaster Management Act dated 25 March 2020. If you or your organisation provides essential services or products during the lockdown, we are able to provide you with your Apple product and key accessories requirements. We are also able to provide support and hardware repairs. Please email us with your requirements and we will contact you to make the necessary arrangements.
On-line Store
Our online store will be operating 24/7 as normal. We will process all orders placed during this period and deliver free of charge as soon as courier services return to normal.
Field Engineers and Service Centre
Our support engineers will be available to provide remote and telephonic support weekdays until 5pm. If you need assistance please submit a ticket via email and if you have any questions please call our Cape Town office or via the website live chat at www.digicape.co.za
Our service centers will be closed from Thursday. Although the team has worked overtime to clear the decks, there is a possibility that not all repairs may be completed in time. We will prioritise outstanding repairs as soon as we return to normal operation and start receiving deliveries of replacement parts.
General Enquiries
If you have any questions please call 021 464 6800 or email wecare@digicape.co.za
We're very proud of the company we've built over the last 18 years, and we are doing everything we can to make sure it will continue for the greater Digicape family. Thank you for your support and understanding.
Keep safe and we'll see you soon,


Digicape
Call Center (Cape Town)
021 464 6800
Ecommerce enquiries
onlineteam@digicape.co.za
Business sales
B2B@digicape.co.za
Education team
education@digicape.co.za
Support tickets
support@digicape.co.za
General enquiries
wecare@digicape.co.za