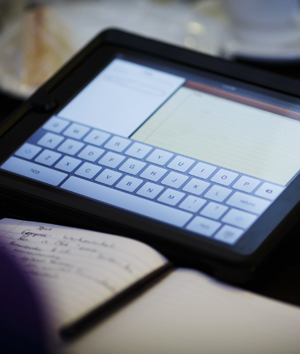 Did you know we offer:
Hardware - Apple and third Party Solutions
Software
Apple Authorised Service Centre
Inbound and outbound Support Engineers
Training
Rentals
Extended Warranties (DPP)
Finance options
Technical consulting
Mobile Device Management
Hosted Exchange
Network planning and infrastructure
Business and Consumer related Internet Packages
Server configuration and installation
Storage solutions
Software audits
Specialised network deployments for major rollouts/upgrades
South Africa's premium independent reseller of Apple products and Your Local Apple Expert, Digicape, is so much more than just an online store. We are your partner of choice for all your hardware, software and networking requirements. We operate as an extension to your business, driving your key objectives and ensuring maximum uptime for your business at all times. Let us supplement your existing technical solutions team or operate as a full outsource partner. Whatever your preference we have the expertise, solutions, support, products and software to maximize the return on all your IT investments.
If you are in multi-media, we'll do complete production solutions, from high-end Apple desktop and server hardware to video production consoles, storage subsystems, inter-networking and true colour output matching. We have video and production solutions experts in-house to provide systems architecture and technical know-how, along with specialised hardware devices. And if you're a learning institution, we have key accounts with the top colleges and universities, where we provide complete systems and solutions for student laboratories and design centers.
In addition to being authorized resellers of Adobe, Apple and Microsoft amongst other specialised software from third party developers, our drive to make technology and learning accessible to everyone has seen us partner with finance partners Capitec and Nedbank and mobile company Vodacom to offer you flexibility, affordability and a full-service solution.
Mobile Device Management
Keep your remote workers focused and on top of their game with Digicape's total MDM solution that manages all your remote iOS devices. Restrict user capabilities, secure data centrally, enable remote access and monitoring, ensure overall device governance and the ability to push business relevant apps to all your devices.
Digicape Hosted Exchange

Unlock the power of enterprise collaboration and communication systems through one integrated hosted solution that communicates to any device on any platform. Link PCs, laptops, smartphones or PDAs onto a unified virtual exchange and synchronise email, calendar, contacts, tasks and a host of other business applications through a secure wireless connection.
Our hosted exchange solution includes:
Free Anti-virus scanning • Free Pro Advanced Anti-Spam • Unlimited Distribution Groups • MS Outlook Web Access • Support for 2003/7 MS Outlook Client, 2008, Entourage and Outlook 2011.
Hardware
Employing someone new or upgrading your entire network? Digicape stock the widest range of Apple and complementary third party products, like Drobo storage servers, with flexible finance and leasing options to make it all affordable. Let us audit your hardware and spec your new requirements before you make the investment in new equipment. Not quite ready to purchase the new generation of Apple products or need some devices for a short time? We give you the option to rent equipment and we set it up for your specific requirements. We even continue to support it.
Software
Your Apple product has potential beyond your wildest dreams. From word processing to design excellence, Hollywood stardom or centre stage there's software to help you get where you want to be. Digicape is the premier reseller of all software for Apple, Adobe and Microsoft for Apple packages. Delivered in a box or in the cloud let our specialist consultants help find the right match for you. And when you're all set up book a training session or attend one of our courses to help get you up and running in no time at all.
Technical consulting
Setting up the right infrastructure for your business or learning institution takes specialist skills. Digicape has been doing this for 13+ years. As part of our upfront consulting process we'll help you define a technical strategy, audit your existing hardware and software, write the specs for your new requirements and plan the rollout of your new network. We then work with you and our strategic partners to deploy the network small or big, new or upgraded. And help you finance the procurement of your new infrastructure. But it doesn't stop there, we offer ongoing support in the form of a Service Level Agreement, in-store assistance from our Fundis, scheduled support calls from our support desk or more specialised services from our Authorized Service Centre. To get maximum productivity from your network, devices and software we host information days at your premises to get your staff better acquainted with Apple's technology or you might prefer a tailored training package on-site at a time that works for your staff.
Connectivity
Connect to other devices and connect to the world with our business and consumer Internet packages. Wireless, cellular, WAN, LAN and leased lines are all available as standalone services or packaged with our hardware, software and networking solutions. Our technical solutions team will help you choose the right option for your requirements and Digicape's inbound and outbound support engineers will configure, setup and support the network for you. View our current Vodacom contract packages bundled with the latest Mac/iPad/iPhone.
Let Digicape help you plan the right solution for your business today; we've been doing it for leading South African brands since 2001.