Foundation
Hardware Consultation
Software Consultation
Extended Warranty
Finance
Life Cycle and Assets Management
Build
Support and Training
Identity Services
MDM Solutions
Mobile Data
Cloud Services
Infrastructure Implmentations
Transform
Advanced Software
App Development
Workflow Management
System Integration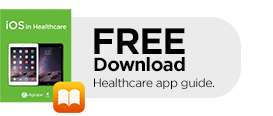 ​
The care that you take in taking care of people's lives is the same care that we take in guiding you through Digicape's Apple in Healthcare solutions, DigiPulse. You'll be amazed at how Apple technology is being used to guide procedures, research and improve patient care and diagnosis.
The healthcare sector has always been at the cutting edge of technology. Driven by the need to save lives, find cures, provide health services to more people, diagnose illness faster and more accurately and constantly challenge the status quo. More often than not doctors, researchers, institutions and healthcare companies are at the forefront of leading edge technology that perform outstanding functions to protect human life.
The applications for technology in healthcare are so varied; from the patient checking their blood sugar levels through an iPhone, app and accessory able to see their results immediate and have those results sent through to their doctor; to sterile sleeves custom made to cover the iPad that is being used in a surgery that specialists are virtually participating in from around the globe; or the app that is sending critical patient care information to under resourced remote areas that have an enormous need.
Each time we see a video, hear a story or see first hand how technology is changing lives, we're inspired to work harder, reach further and do greater things. Not just by supplying an iPhone or iPad but by building a holistic digital and mobile ecosystem that will alter the lives of many and touch even more.
We're here to help you take the next step.
Introducing DigiPulse
As your Local Apple Expert, we have launched a solution that combines our experience in delivering world class products and services to companies and institutions with a methodology that's designed to meet the needs of professionals, companies and institutions in the healthcare sector. The DigiPulse methodology includes a 15-step program divided into 3 phases to make sure we deliver the secure, always-on technology solution that we know will be important for you:
Phase 1: Lay the foundation
Each program is initiated with a full assessment of how your healthcare business operates, evaluating your existing infrastructure, hardware, software, accessories and the services you make use of and service providers that form part of your delivery network. It's important to understand workflow, data warehousing, privacy and fail-over points to eliminate weak spots in the system. We discuss your objectives and share examples of how technology is being used in similar environments to help you shift towards experiencing real value as quickly as possible. Ever considered using an iPad with a familiar game like Angry Birds to settle the nerves of children about to go into surgery?
Phase 2: Build the Ultimate Solution
Once all the groundwork has been done and we have our list of requirements we work with, we begin with putting the technology solution in place. Assuming ownership of the program, working as a one-stop-solution-provider or as part of a team, our models for working differ according to each healthcare provider's environment, requirements and procurement policy. The Build-phase includes consulting, network design, training and support for all staff that form part of the ecosystem. We design the network and align with all service providers throughout the implementation and SLA management. This phase would include the network infrastructure implementation and configuration, a mobile device management solution, cloud and private cloud hosting solutions, content delivery and distribution planning and mobile data and connectivity to guarantee security and privacy, network availability and always-on access to information. At each stage we review and revise our plans as new information and requirements are discovered.
Phase 3: Transform Lives
The advanced mobility solutions and results phase would not be possible without the precision planning, expert implementation and great teamwork between our Digicape team and you the healthcare provider. This is our favourite part of the process, the point at which the transformation is experienced and the real life changing applications are felt. The Transform Phase includes advanced software solutions, app development specific to the environment and advanced workflow and system integration. At this stage we are either on-site offering support or just a phone call away to take care of your networking solution. We're also constantly working with you to find new ways to use your technology. When practitioners and healthcare staff find better and faster ways to serve patients, researchers get to fast track their studies, doctors improve the connection with their patients and much needed information is delivered just in time to save a life, we know we're onto a great thing.
Reach out to our DigiPulse Healthcare Specialists today and change the future.